Welcome to New Zealand
Book your motorhome today!
What Is Included in the Price?
Full Insurance Included
Full motorhome insurance is included in our quotation, and there is no bond required because you have full insurance.
GPS Included
GPS Navigation is included at no extra cost. Explore New Zealand like a local.
Wifi 1GB
Your own motorhome has WIFI, connect to your phone, tablet or laptop.  There is 1GB mobile data included.
Unlimited Kilometers
There is no per day limitation on how many kilometers you can drive. Explore New Zealand as much as you like it.
Value Packed
Picnic table and chairs, fresh white linen, full-size pillows, and thick duvets are included. Linien exchange is free.
Waitomo Caves
The entry to Waitomo Caves is free for the lead driver!
Why Book A Motorhome With Us?
Quality Vehicles
Our rental partners ensure that all their motorhomes are maintained to the highest standards with a FIRST-CLASS maintenance program.
Real-Time Rental System
Our real-time booking system allows you to check availability of motorhomes and book them for when you want them.
No Booking Fees or Commissions
We do not charge a booking fee when you make a reservation.
Major Cards and Multi Currency
We accept Visa, MasterCard, Amex and PayPal.  Please enquire if you would like to pay in a currency other than NZD.
Secure Website
You may notice the green lock pad on your browser, our website address starts with https, this is because we use the world's leading SSL Encryption technology to safeguard your visitor experience.
Holiday Park Booking
We have partnered with more than 120 high-quality holiday parks across New Zealand. You can also book a powered site for your motorhome easily on our website.
Professional Travel Agents
Our staff members are certified by Tourism New Zealand as 100% Pure New Zealand Specialists, we are passionate about New Zealand and eager to show you the best.
24 X 7 Customer Service
Any booking enquiries will be answered within a few hours.  Our designated local New Zealand phone number is available 24 hours for on-road customers.
Maui Motorhome Hire
The Maui campervan line allows you to enjoy a New Zealand holiday at the pace you desire, providing you with fully customizable features. Seating between 2 and 6 people, different campervans serve as great options for couples, families, and groups of friends.
Outfitted with modern furnishings and a fully equipped kitchen, each vehicle is designed with comfortability in mind; you might feel like you are in an apartment rather than a motorhome. The spacious sleeping and living areas can be arranged to suit your own needs. All Maui campervans are automatic, using Mercedes and VW models from 2014 to 2016.
Britz Motorhome Hire
The Britz campervan line has a wide variety of vehicles for 2 to 6 people, each customizable to suit your traveling needs. Whether you are a couple, a group of friends, or a large family, you will be able to find a vehicle that works for you.
All vehicles have a comfortable living area, a kitchen area stocked with necessary supplies and utensils, and depending on the vehicle you choose, complete bathroom and shower facilities. All Britz campervans are automatic transmission. With Britz Inclusive Pack, you will also get GPS, 1GB WIFI, picnic table and chairs, additional drivers are free of charge.
Mighty Campervan Rental
Whether you're looking for a place to sleep (Lowball) or you're after a mini apartment on wheels (Double Up), we are sure to have a low priced campervan that would suit your needs. The Mighty campers are well maintained & loved and are around 5 years and older.
All Mighty campers, except Mighty Double Down, have a mixed fleet of manual or automatic transmission types. Mighty do not specify the transmission type at the time of reservation. If you are unable to drive manual transmission vehicles, please consider Maui or Britz instead.
Explore New Zealand
From the Comfort of Your Own Home: Motorhome!
Looking to explore the untouched beauty of New Zealand? Want to get off the beaten track? Value your independence? Welcome to NZ Motorhome!
Travelling by campervan is the ultimate way to see NZ. The stunning beaches, snow-capped mountains, wild forests and blue lakes. It's no wonder New Zealand is one of the top-rated countries in the world to visit. You've no doubt heard a lot about New Zealand's breath-taking landscapes, movies such as Lord of the Rings have made the country a world-famous tourist destination.
But guess what? Movies and photographs only show a tiny part of how beautiful New Zealand really is. There's so much more waiting to be discovered, and the best way to discover it is by renting a motorhome!
Reasons To See New Zealand By Motorhome
New Zealand is one of the best places in the world to explore by motorhome. Why? Let's find out!
Freedom and Independence
Renting a motorhome means no more worrying about hotels or accommodation. Many of our motorhomes include your own bed, bathroom and kitchen, while our range of smaller vehicles allow the freedom to use public facilities.  There are a huge number of motorcamps, holiday parks and campgrounds all over New Zealand – you don't have to go far to find one! Even in the most remote areas of the beautiful Coromandel or the deepest parts of the South Island, you're likely to find a motorcamp or holiday park that caters to you and your vehicle.

Most motorcamps or campervan parks are fully equipped with powered sites and facilities such as communal lounges, laundry, kitchens, showers, toilets and playgrounds. Some holiday parks even feature swimming pools and spa baths!
The entry fee for most campgrounds will include usage of the communal kitchen, toilets and shower facilities. (Please note that shower facilities in some holiday parks have a time limit).

You can also top up your motorhome's tank with free fresh water, and there are designated areas to empty greywater from your kitchen tank and blackwater from your toilet.  
Although fees for holiday parks and motorcamps vary, you can expect to pay anything from $NZ15 to $NZ25 per person per night.
Laundry facilities such as washing machines and dryers are also available at holiday parks. These are usually coin-operated.  
DOC camp sites (Department of Conservation) are usually basic sites with minimal facilities but very low fees. There are over 250 public camping areas managed by DOC, most of which are in New Zealand's most beautiful and untouched areas. These parks generally cost less than $NZ19 per person per night – some are even free!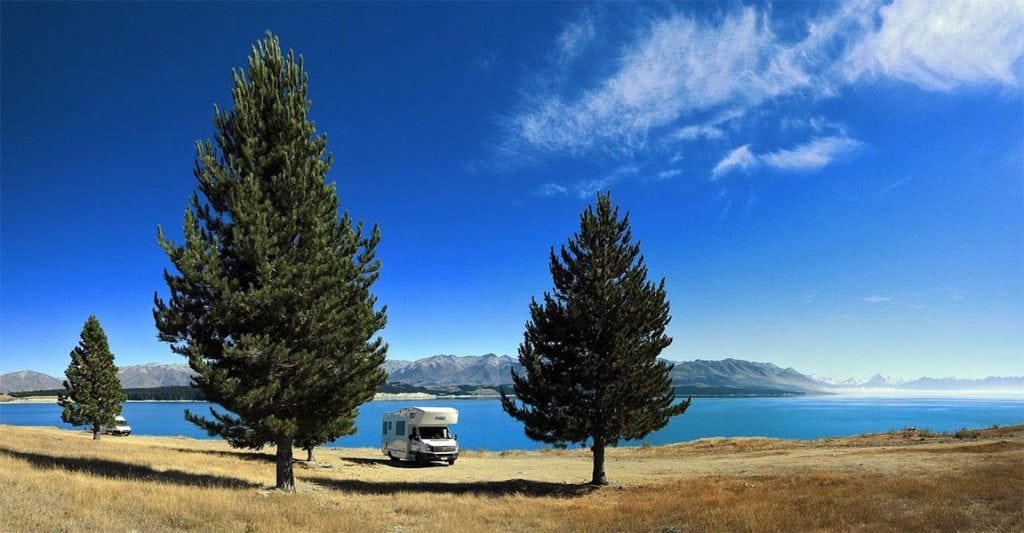 Freedom Camping: You Choose Where To Stay The Night!
One of the best things about hiring a motorhome in NZ is freedom camping. Many areas in New Zealand allow you to park your motorhome overnight in a public place that isn't an official camping ground. Want to wake up to the sound of waves crashing on the sand? Park at the beach! Want to start the day with an early-morning hike through native bush? Park at the start of a track!

BUT WAIT: Before you settle in for the night, check first whether freedom camping is permitted. Some towns and areas in NZ don't allow it. It may be a good idea to download the CamperMate app onto your smartphone. This is available from campermate.co.nz and shows you all the campsites in NZ that provide free or cheap campsites/holiday parks, public restrooms, water and other facilities.
The main rule to remember about freedom camping is that you MUST be in a certified self-contained vehicle such as a motorhome or campervan. All vehicles available from NZ Motorhome are certified vehicles and permitted for freedom camping.
If you DO find a place where freedom camping is permitted, be sure to take your rubbish with you. Don't leave a mess!
Get Off The Beaten Track
Some tourists like to see a country by paying for a coach tour with a set itinerary. But when you hire a rental van and drive yourself, you decide the route and itinerary!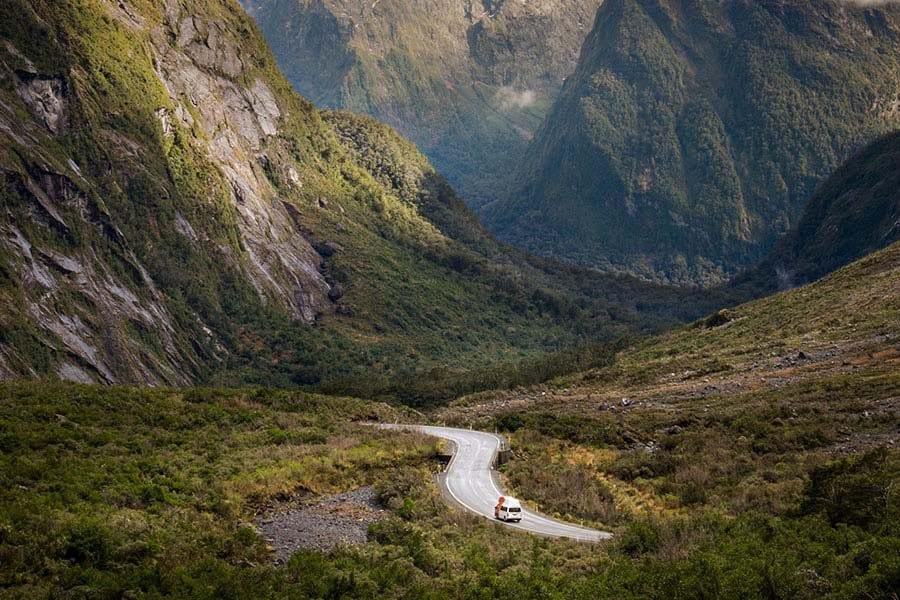 Those who love the sand and surf may choose to park up at the beach and spend a week sunbathing. Those who love nature and wildlife will head to New Zealand's many parks and spend all their time walking through native bush. Those who love photography will want to park close to a lake or mountain so they can capture a stunning sunrise or sunset.

Motorhome travel is perfect for the adventurous traveller. New Zealand has lots of well-kept secrets that aren't always in the tourist brochures. Secret waterfalls, blue springs, peaceful walkways and deserted beaches. The best way to find them is by exploring!
Motorhome Features
Each Maui, Britz and Mighty campervan is equipped with kitchen essentials including crockery, cutlery and cooking utensils. Each vehicle also comes with fresh linen and bedding. General living equipment for every day is also provided.
Air-conditioning is provided in the driving cabin of each motorhome to ensure your comfort whilst on the road.
For your convenience, all motorhomes with the Inclusive Pack feature a mobile WiFi unit which can connect up to 5 mobile devices at any one time. The mobile WiFi unit comes preloaded with 1GB of data. Additional data bundles can be purchased by the customer from the mobile WiFi unit provider. Most areas of New Zealand have excellent mobile phone coverage, so you can count on being connected!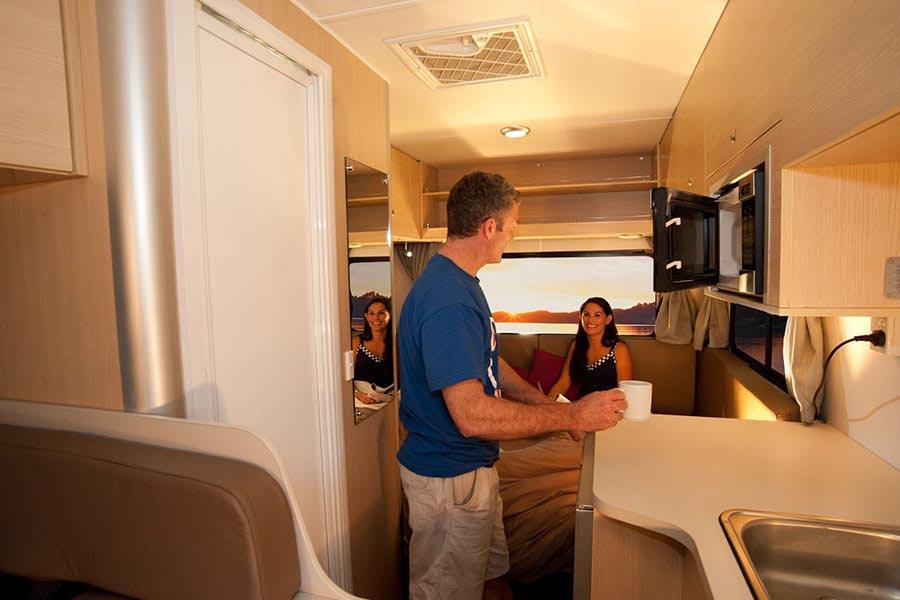 Dine In Or Out: Wherever and Whenever You Like
By renting a campervan, you have your own personal kitchen available to you at all hours of the day and night. What better way to sample the many flavors of New Zealand cuisine as you travel! You'll find fresh strawberries for sale in summer, and amazing shellfish such as scallops and mussels almost any time of the year. Be sure to sample some of NZ's wonderful wine from its many wineries (but don't drive afterwards!). Then there's NZ's favorite: good old fish and chips on the beach. When you travel by motorhome, the whole country is on your plate!

Take The Whole Family
Kids, parents and even grandparents will all love the freedom and luxury of traveling in a camper van. All of your home comforts are on hand when you need them. No need to keep packing and unpacking – your luggage is right where you are! Travel at your own pace with all of your personal home comforts right at your fingertips. The cosiness of a rented motorhome will make it a trip to remember.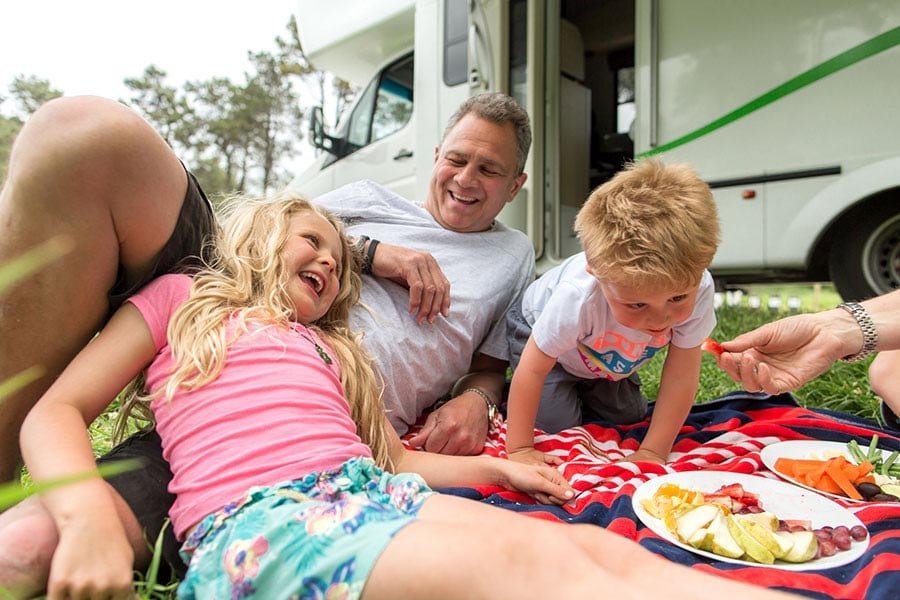 Children in the Motorhome
Traveling with young children? No problem! In New Zealand, all children aged under 7 must travel in an approved child restraint seat or baby seat. All branches of New Zealand Motorhomes can provide child restraints for all vehicles. Each restraint seat is $NZ36 per hire. The cost of hire for child seats/baby seats is included in the Inclusive Pack for each NZ Motorhome brand. For more information, visit the NZ Motorhome page by clicking here. The Maui River campervan accommodates up to 3 child seats, making it the perfect choice for larger families.
Find Your Way Around New Zealand Easily
New Zealand's size and shape makes it great for exploring by road. Most tourist destinations in the North Island are connected by State Highway 1, and most destinations in the South Island by State Highway 3. All roads can be easily navigated by Google Maps. All New Zealand Motorhome vehicles including Maui, Britz and Mighty are equipped with a Like a Local in-trip tablet that features GPS capability.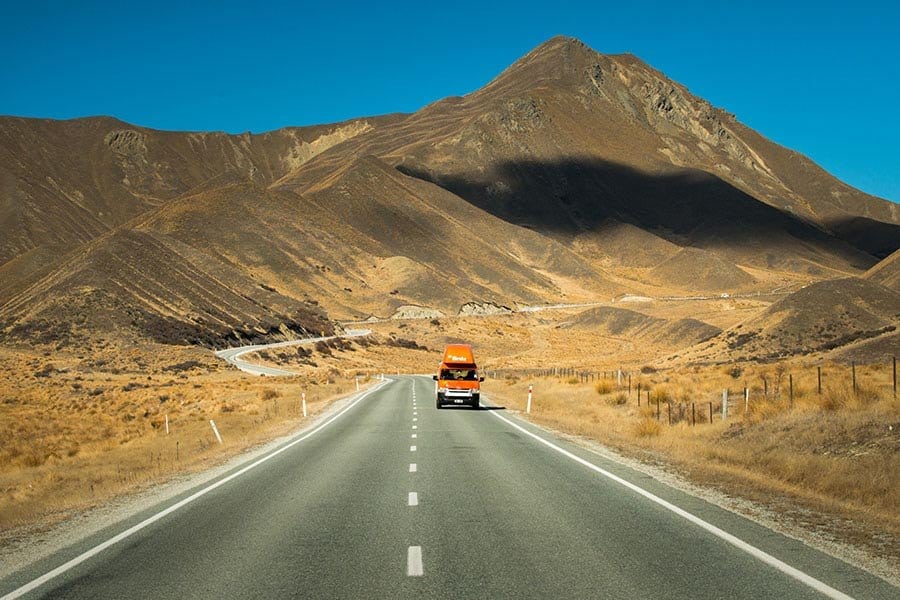 New Zealand is one of the few countries in the world where road travel is a breeze! Most major cities and tourist destinations are only hours apart. Best of all, you'll find plenty of options for parking your vehicle at each destination. Tourist 'hotspots' will generally feature convenience stores, car parks, motorhome parking, and anything else you might need.
With your own wheels, you can explore the whole country within a matter of days – not that you will want to rush. The beauty of travelling by motorhome is that you can relax and explore at your own pace.  Most people find it best to travel slowly, taking in the sights and relishing the splendour of this amazing country.
Choosing a Motorhome:
Which is the Right Rental for Me?
New Zealand Motorhome has a fantastic fleet of vehicles for you to choose from.
Our stylish range of campervans can host between 2 and 6 people. Rental options are available for couples, families and groups.
Britz Campervans
The Britz Campervan range includes vehicles from sleepervans to campers. There's something for every couple, family or group. Vans or motorhomes feature beds, cooking facilities and bathrooms with a toilet. All you need to be self-sufficient and totally independent!

Maui Motorhomes
Maui's range of luxury motor homes provide space and style on the road. It's as close as you can get to taking your own apartment on holiday with you! Maui provides all kinds of rental vehicles from cars to family-sized sleeper vans. Beds, kitchenette, toilet and bathroom are all on board ready for use.

The Best Deals on Wheels
There may be plenty of motorhome companies out there but none with deals like NZ Motorhome. Compare our prices!

Motorhome Insurance
Travel is even better when you know you're covered by insurance. We want you to enjoy the sights and sounds of beautiful New Zealand with the peace of mind that you're covered if anything goes wrong.
NZ Motorhome provides security and peace of mind with motorhome insurance included in every quote.
Included in Your Inclusive Package:
Liability Reduction Option (NIL liability with credit card authorization and includes unlimited accidental damage to tyres and windscreens)

Single vehicle rollover cover

WiFi, including 1GB of data

Extra Driver Fees

Linen exchange

Picnic table

Picnic chairs per person travelling

Child/Booster seat if required

Snow chains if required

Portable fan heater if required
Fuel Cost
It's important to know how much to expect to pay for fuel when hiring a motorhome. Prices for petrol vary between large cities and smaller towns. Areas that are more remote may have higher fuel prices. However, you can usually expect to pay around $1.70 – $2 a litre for fuel in most places.

So what are you waiting for? Visit NZ Motorhomes today to make your booking – and set off on the ultimate New Zealand adventure!
A Sample Itinerary: Auckland to Christchurch
Auckland
Begin your journey in New Zealand's largest and most cosmopolitan city. This is where you can pick up your motorhome from NZ Motorhomes. Before heading down State Highway One, be sure to check out Auckland's incredible west coast beaches – Piha, Bethell's and Muriwai.
Auckland – Matamata: 2-4 hours
If you're a Lord the Rings fan, you'll certainly want to check out Hobbiton! Matamata is home to the movie set for the hobbit village that featured in all three LOTR movies and in The Hobbit. Here you can take a sightseeing tour of Hobbiton and even get a photo of yourself in a hobbit home!
Matamata – Coromandel: 2 -3 hours
Love the beach? You'll love the Coromandel. Here you can trek through the beautiful native bush to visit the iconic Cathedral Cove. Or perhaps you'd like to try digging your own spa bath at Hot Water Beach?
Coromandel – Rotorua: 3-4 hours
Rotorua is a place like no other. It's where you'll find the natural wonders of thermal mud pools, hot springs and geysers. It's also one of the best places to see NZ's indigenous Maori culture, art, and craft.
Rotorua – Taupo: 1 hour
New Zealand's largest lake is a fantastic place to experience boating, water-skiing or golf! Try your luck at the unique Hole In One Challenge.
Taupo – Wellington: 5 hours
NZ's capital city is home to the impressive Beehive, our Parliament. It's a city of fascinating art, architecture, fine dining and zany characters!
Wellington – Picton: Ferry crossing (3-4 hours)
Getting from the North Island to the South Island is easy. Simply drive your motorhome onto the ferry and you're on your way! Best of all, the Cook Strait ferry crossing has been described as one of the most beautiful in the world. This ferry crossing can also be done in reverse (from Picton to Wellington).
Picton – Kaikoura: 6.5 hours
Ever dreamt of swimming with the dolphins? Or watching whales? Kaikoura is the place for it! This is one of the best places in New Zealand to see sealife.
Kaikoura – Christchurch: 2.5 hours
The largest city in the South Island, Christchurch is all about elegance and history. Although devastated by the 2011 Christchurch earthquake, most of the city has now been restored and it is certainly a highlight in any itinerary.
Renting a motorhome in New Zealand provides a unique opportunity to explore the beautiful landscapes of New Zealand. But before you get behind the wheel there are a few things to keep in mind because driving in New Zealand is different than other countries.
All children aged under seven years must travel in an approved child restraint Children aged from birth to approximately four years (birth-18kg) must use a child seat. Children aged between four and seven years (15-36kg) must use a booster seat.  All child restraints must comply with the standards approved in New Zealand
Look No Further. Get it Booked Today.