Maui Campervans NZ
NZM Rentals is a travel agency specialised in arranging motorhome holidays.  We recommend Maui motorhomes for its modern design and the excellent customer feedbacks. The Maui campervan allows you to enjoy a New Zealand holiday at the pace you desire. Seating between 2 and 6 people, they are perfect for couples, families, and groups of friends. Outfitted with modern furnishings and a fully equipped kitchen, each vehicle is designed with comfortability in mind. You might feel like you are in an apartment rather than a motorhome
Maui NZ offers campervan hire in Auckland, Christchurch and Queenstown.
All Maui campervans are automatic. Maui brand has the following motorhomes in its fleet: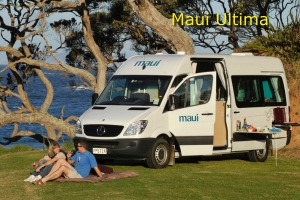 Whether you prefer a double bed or two singles, the Ultima 2 Berth Motorhome offers you the flexibility to choose. The Ultima lets you take your world with you on your motorhome rental. A glorious Kiwi summer evening is not complete without a BBQ, the Ultima campervan has BBQ facility. If you decide to relax inside, just slide out the LCD screen & DVD player and kick back with your favourite movie.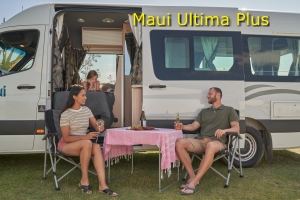 Sleeps 2 adults and 1 child. The maui Ultima Plus is ideal for 2 adults and 1 child! This innovative, certified self contained vehicle comes with toilet, shower and kitchen facilities, with plenty of space for the family of 3. With automatic transmission, this vehicle is a perfect for an easy family getaway.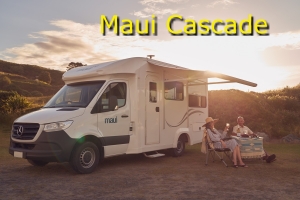 The maui Cascade is perfect for a family of four, or two couples travelling together. The Cascade comes complete with kitchen and bathroom facilities, and an innovative bed design. Two comfortable double beds are both located at the rear of the vehicle, with the rear lounge converting into the first double bed for two, and the second lowering from the ceiling to accommodate two more!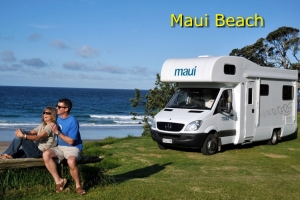 Stylish comfort for up to four.This 4 berth motorhome is very spacious. Enjoy each other's company but not live in each other's pockets! Your maui campervan is complete with apartment styled kitchen utensils and fresh linen, just like what you'd expect to find in a hotel.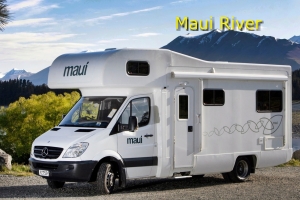 The 6 berth River motorhome has been designed for you and the kids. With your motorhome rental, you will travel and see the scenery. and the kids will be safely buckled up in the back and entertained by their favourite DVD . The River 6 Berth Motorhome provides you with a bigger fridge, so you don't have to worry about shopping regularly to stock up. And although you're camping, there's no need to rough it – you'll find high quality crockery and decent wine glasses. The shower is hot and towels are abundant. In addition to a spacious living area, you will enjoy the vast storage space for all your gear.
Campervan Hire New Zealand offer self-driving holidays, we provide booking service for your motorhome, holiday parks, and tour activities.Please feel free to contact us today for an obligation free quotation.